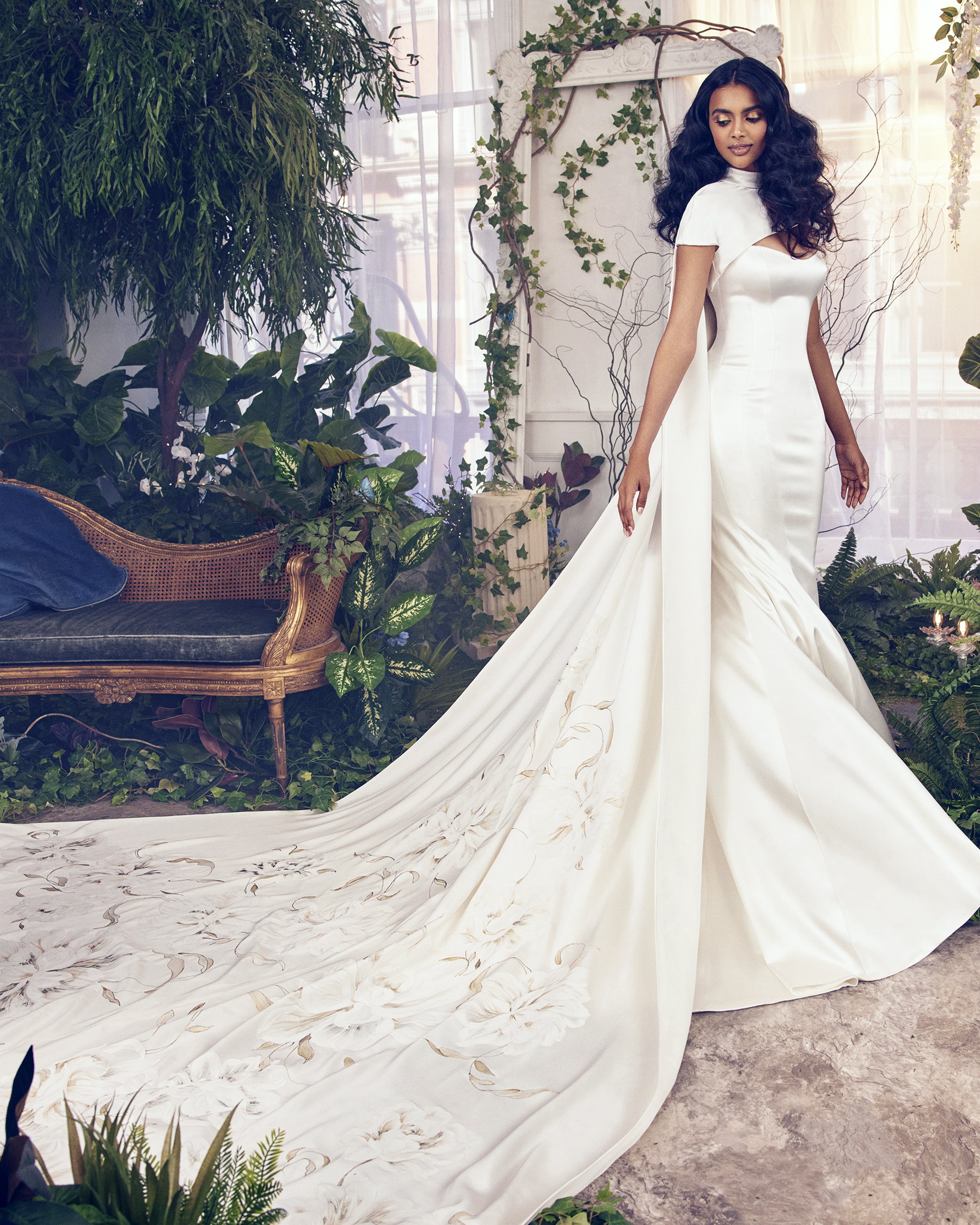 Wedding dress by Ines Di Santo
WEDDING DRESSES FOR WOMEN WITH BROAD SHOULDERS
Every bride wants to feel elegant and graceful on their big day. But, having broad shoulders can make shopping for the perfect wedding dress difficult. If you have broad shoulders, it's important to find a wedding dress that is made specifically for your body type or in a style and design that is flattering to you.
There are many simple styling hacks to make your wide shoulders less noticeable, and instead draw attention to the areas of your body where you are more confident. Read on to find out how to you can feel beautiful in your wedding gown.
1. Pick the right neckline
As a rule, women with broad shoulders should avoid boat necklines, off-the-shoulder styles and high neck clothing. This rule applies to bridal dressing too. Boatneck dresses or gowns with spaghetti straps will only make your wider shoulders more noticeable. Instead, you'll want to pick a dress that has a scoop, asymmetrical or V-neckline to draw the eye vertically or diagonally across the body and to create a slimming effect.
2. Create a balanced silhouette
Women with broad shoulders are usually wider on the top half than on the bottom half. Therefore, you will want to choose a dress that balances the body shape and create definition at the waist. Avoid fussy details such as ruffles and volume on around the neck, shoulders and arms. Instead, use vertical lines to create an illusion of slimmer shoulders. A fuller skirt such as a ball gown or A-line dress will balance wide shoulders and create a flattering waist. Cinching in the waist with a jeweled belt will draw attention down the body, away from the shoulders and add definition to your body shape.
3. Wear a floor-length gown
If your shoulders and chest are the widest parts of your body, they will require the most attention when it comes to choosing a wedding dress that will flatter your figure and accentuate your natural beauty. To distract from broad shoulders and create a beautiful hourglass shape, choose a gown with fitted bodice and a flared skirt, like an A-line dress as already mentioned above, that will draw the eye down toward your narrow hips and slender legs. You can also choose a gown that is slightly asymmetrical in order to draw attention to the narrowest part of your waist.
4. Select fabrics carefully
Stay away from heavy fabrics like satin and velvet. These fabrics are bulky and will overwhelm your already wide frame. Instead, choose lightweight materials like chiffon, tulle, organza, or lace. These are breathable and comfortable, and they will provide ample coverage without adding bulk to your bust-line or torso.
5. Consider a long train
If you dream of wearing a wedding dress with a train, then you ideally want to avoid wearing a train that is too long or too short. The best option is a long train as it will help to conceal your broad shoulders, while a short train will make your body appear shorter and rounder.
6. Wear high heels
If you feel comfortable wearing high heels for your wedding day, then they are preferable to wearing flats or sandals. This will help to balance out your frame and make your shoulders look smaller.
7. Choose a simple hairstyle
Long hair tends to create more volume and texture at the shoulders, which will further draw attention to broad shoulders. A swept-back hairstyle will help to balance out your shoulders and draw attention away from them. Choose a hair style that is sleek and polished with minimal body, and avoid going for styles that are too voluminous and messy, as they will detract from your overall look and create even more volume around your neck and shoulders. Also, stay away from super high ponytails and messy buns. These hairstyles draw attention to your forehead and cheekbones, which will only serve to further widen the space between your neck and shoulders.
A wedding is a special moment in someone's life, so you should feel free to wear whatever you want on your special day. But these guidelines will help you choose a dress that will flatter your figure, draw attention away from broad shoulder and help you to look your best on your wedding day.