September 2021 marked the return of "fashion's biggest night out." After taking a break in 2020 during the pandemic, the Met Gala made its triumphant return to New York City. This year, the 2021 Met Gala theme was "In America: A Lexicon of Fashion." With such a broad theme, there was a multitude of interpretations that led to attendees delivering some iconic looks throughout the evening. Here are some of the biggest Met Gala fashion moments of 2021, celebrating "all things America."
Billie Eilish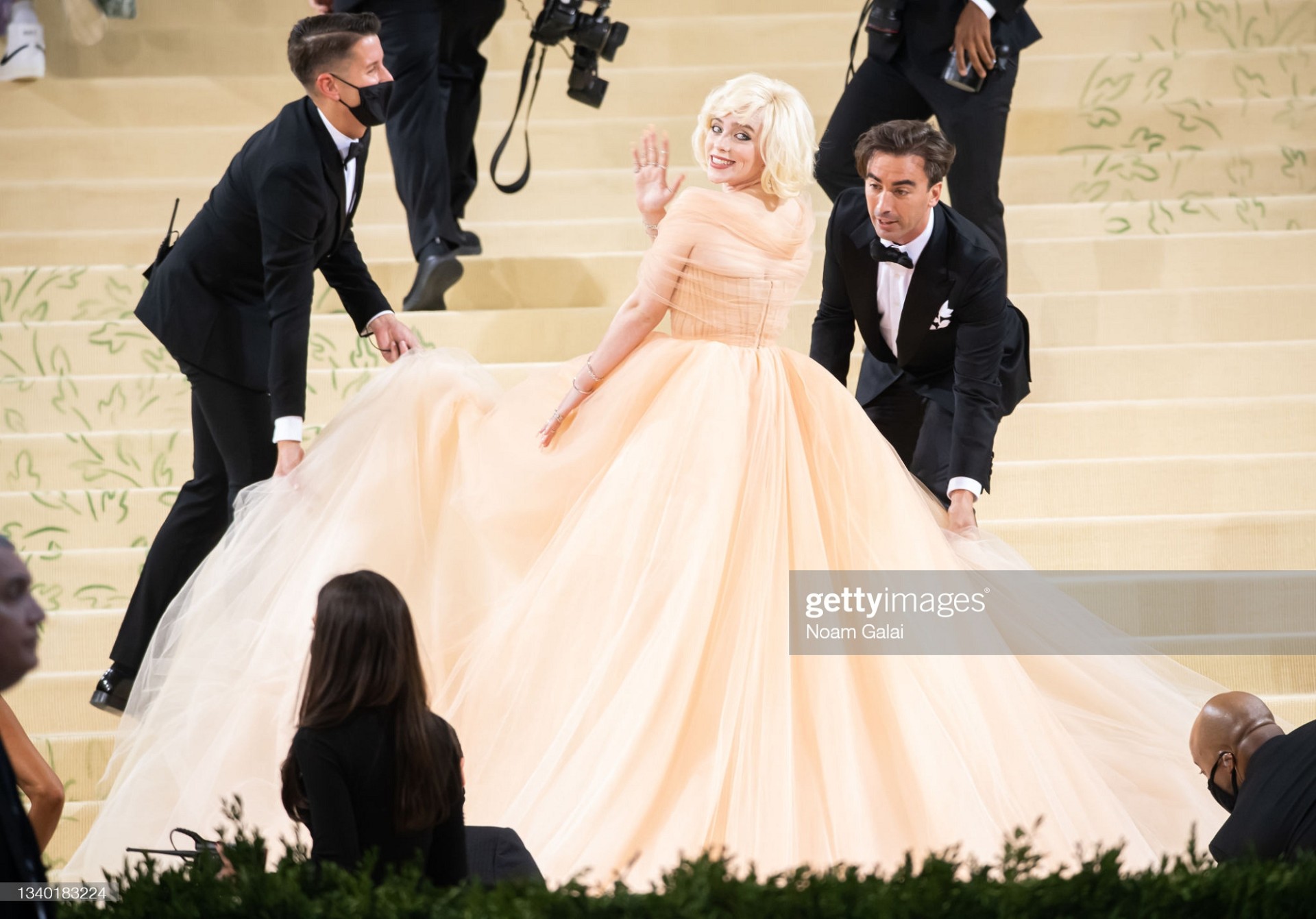 She may be known for her unconventional style, but Billie Eilish envisioned classic, Marilyn Monroe-inspired glamour for her 2021 Met Gala appearance. Her custom Oscar de la Renta gown was even more meaningful, as it represents a turning point in the fashion house's history.
"It was an honor to wear this dress knowing that going forward, Oscar de la Renta will be completely fur-free," the artist posted on Instagram. "I am beyond thrilled that Fernando Garcia and Laura Kim and the entire team heard me on this issue, and have now made a change that makes an impact for the greater good; not only for animals but also for our planet and environment, too. I'm honored to have been a catalyst and to have been heard on this matter. I urge all designers to do the same."
Jennifer Lopez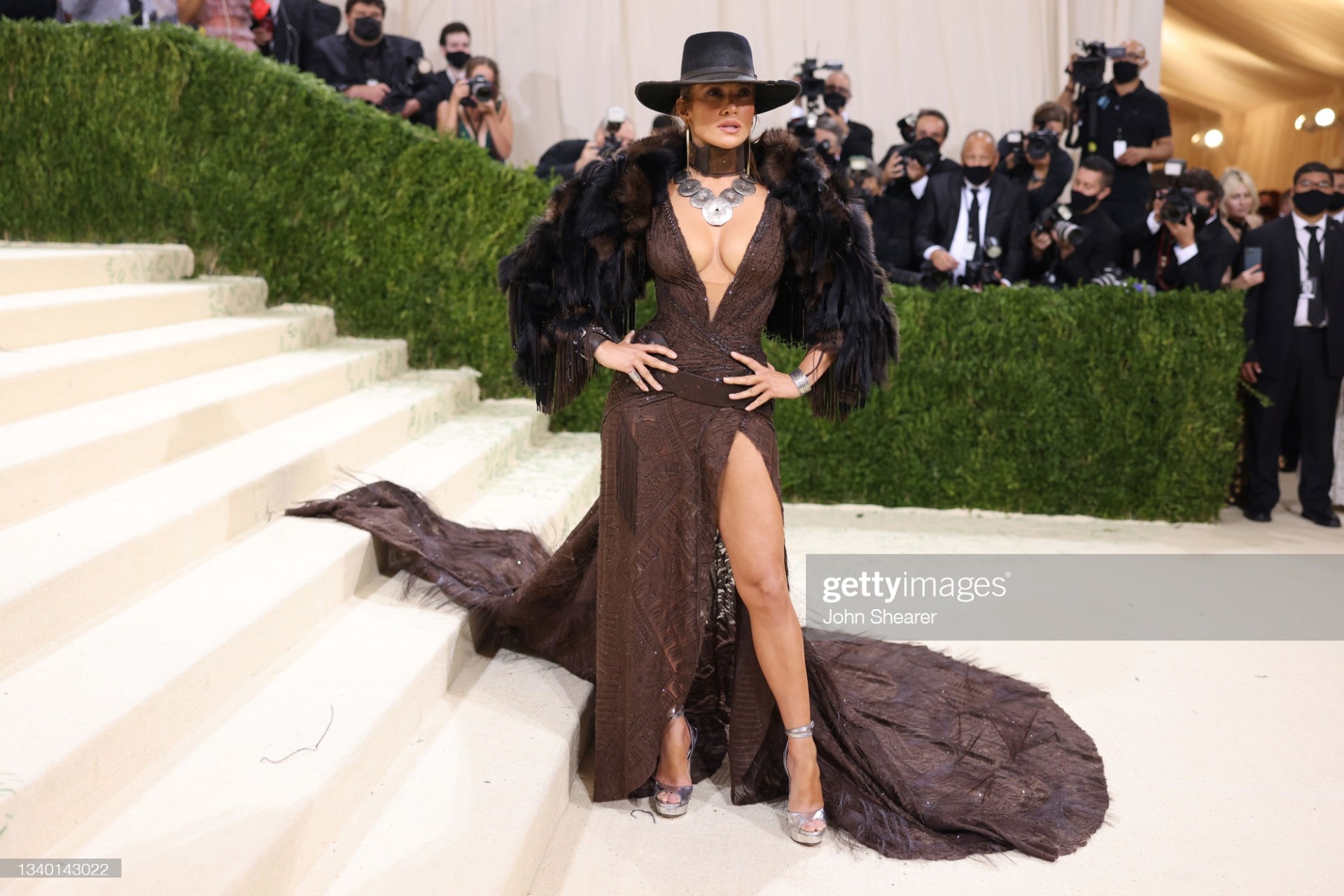 With all of America's history being up for grabs, it's no surprise that some would be inspired by the country's "Wild West." Leave it to J-Lo to put a sexy spin on things, wearing Ralph Lauren and looking like a fantasy rancher.
Hailey and Justin Bieber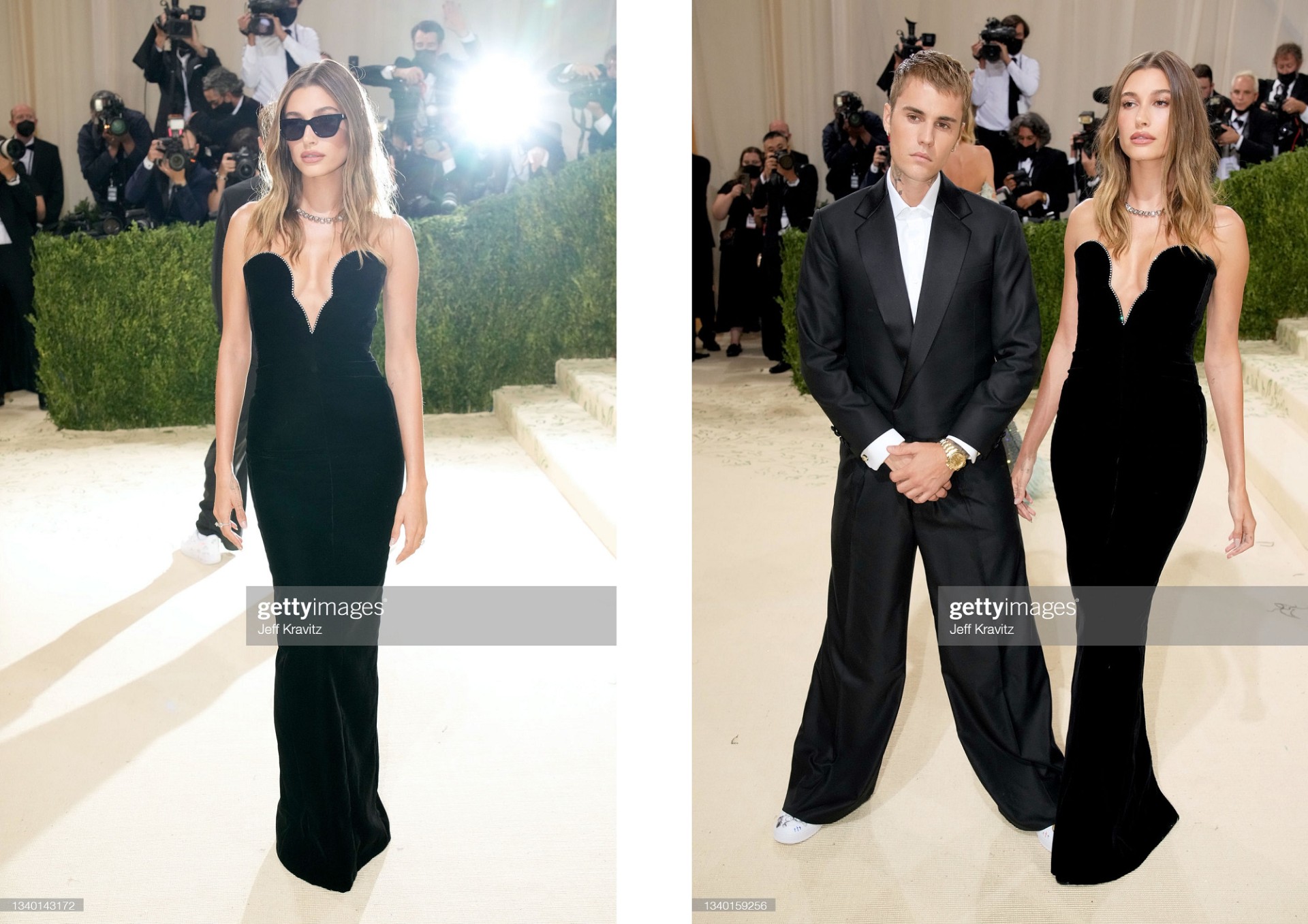 Despite turning heads wherever they go, Hailey and Justin Bieber opted for classic black ensembles. Justin chose an oversized suit while Hailey went with a curve-hugging gown by Saint Laurent. Her look was finished with Tiffany & Co. jewelry. Very "solo in the spotlight Barbie."
Kim Kardashian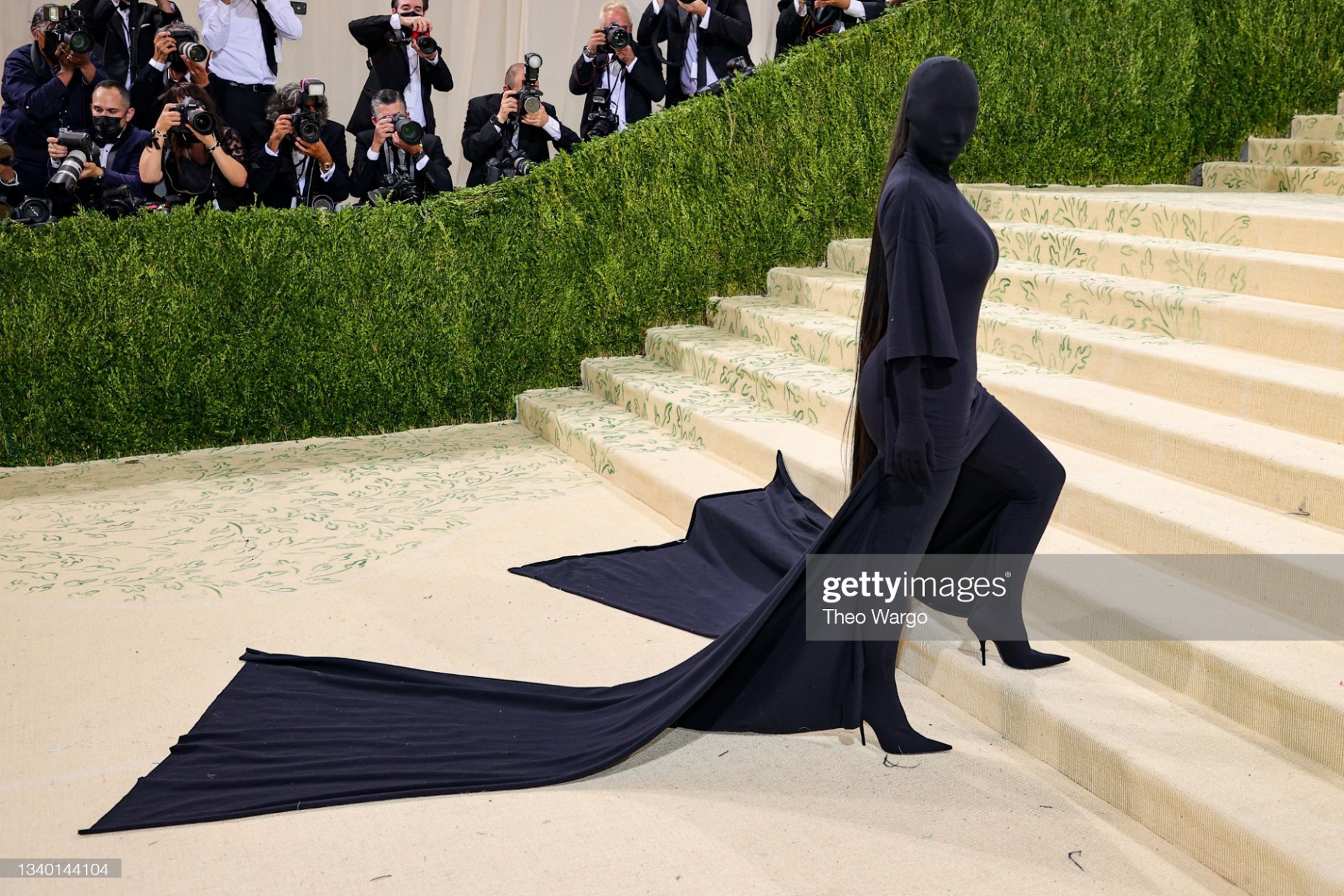 Is it even a Met Gala if Kim Kardashian doesn't cause a stir? The reality star's outfit, which immediately became the source of countless internet memes, consisted of a head-to-toe black ensemble by Balenciaga. Full face mask included, of course. Kim hasn't confirmed the exact meaning of her fashion choice, but there has been some great guesses and interpretations. Our favorite: The fact that Kim, who has always been ridiculed for showing off her body, covered every inch of herself and was still criticized. To be fair, that's quite an accurate interpretation of American pop culture.
Kendall Jenner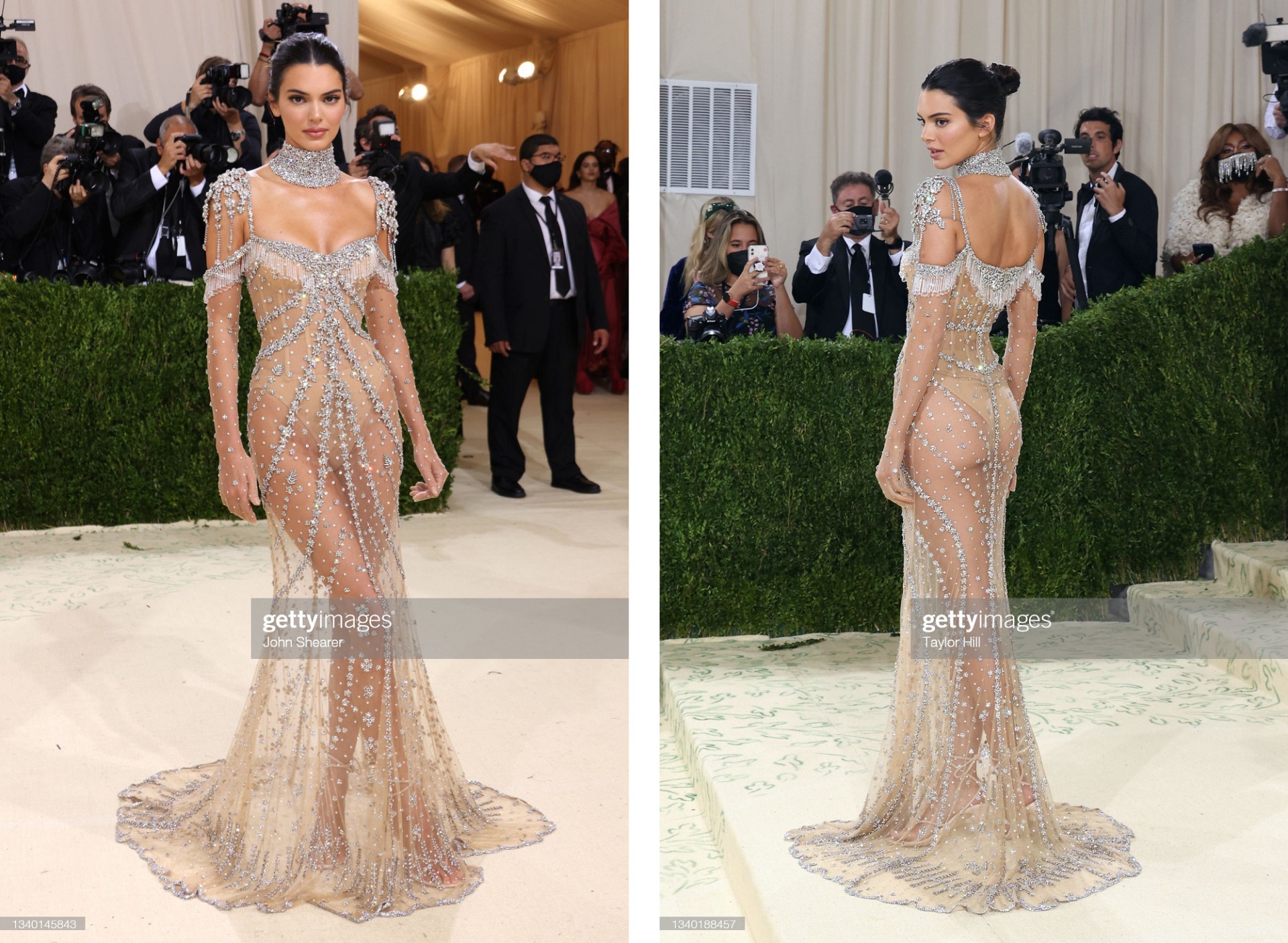 Move over, Carrie Bradshaw – there's a new "naked dress" in town. Unlike her sister Kim, Kendall Jenner chose a super sheer haute couture gown by Givenchy. Inspired by the iconic gown Audrey Hepburn wore for the ballroom scene of My Fair Lady, Kendall's version put a seductive twist on an American classic.
Rihanna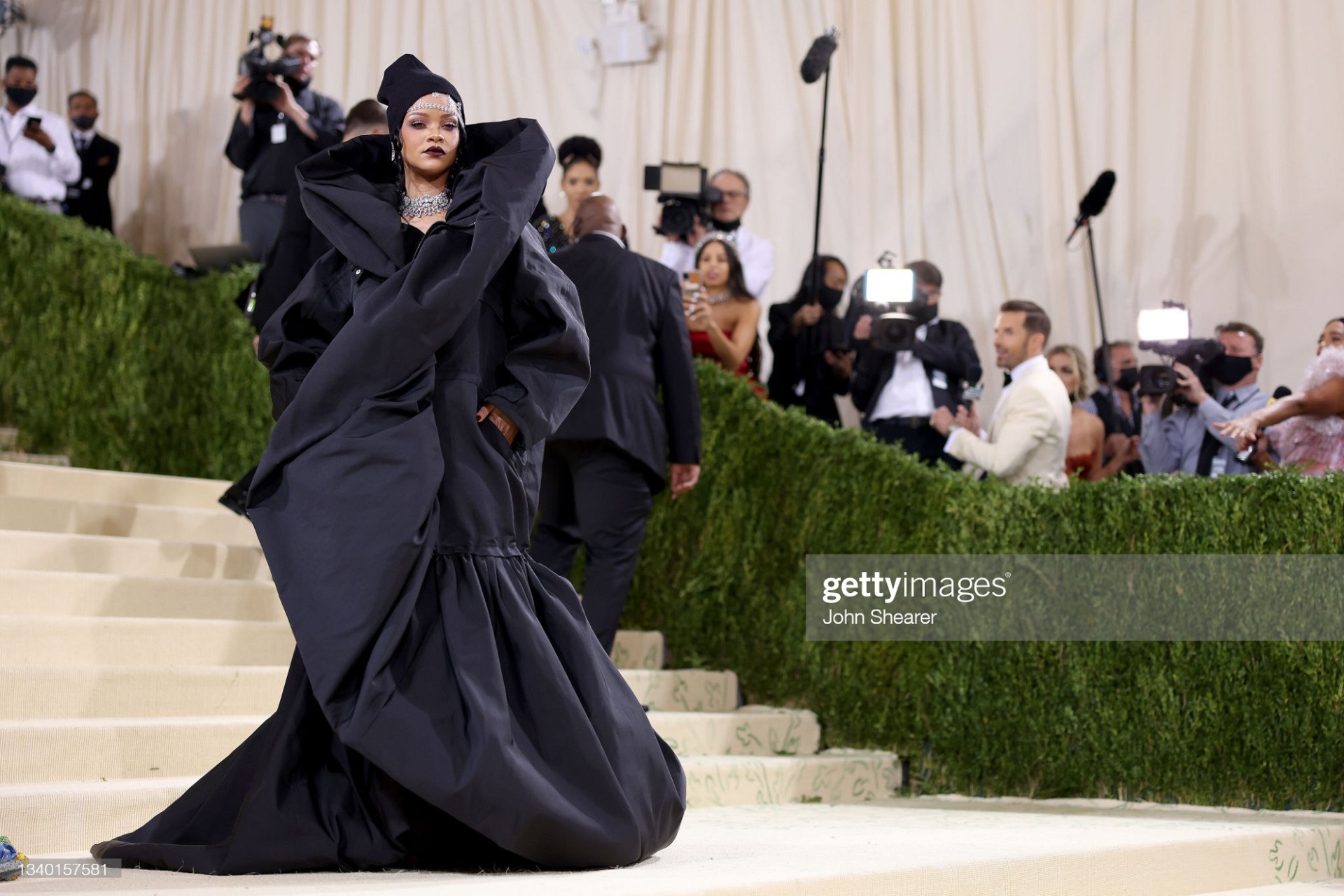 Rihanna always knows how to make an entrance. The music and business mogul chose a custom all-black ensemble by Balenciaga, which was a beautiful and modern interpretation of old-world glamour, sophistication, and Hollywood-style drama.
Normani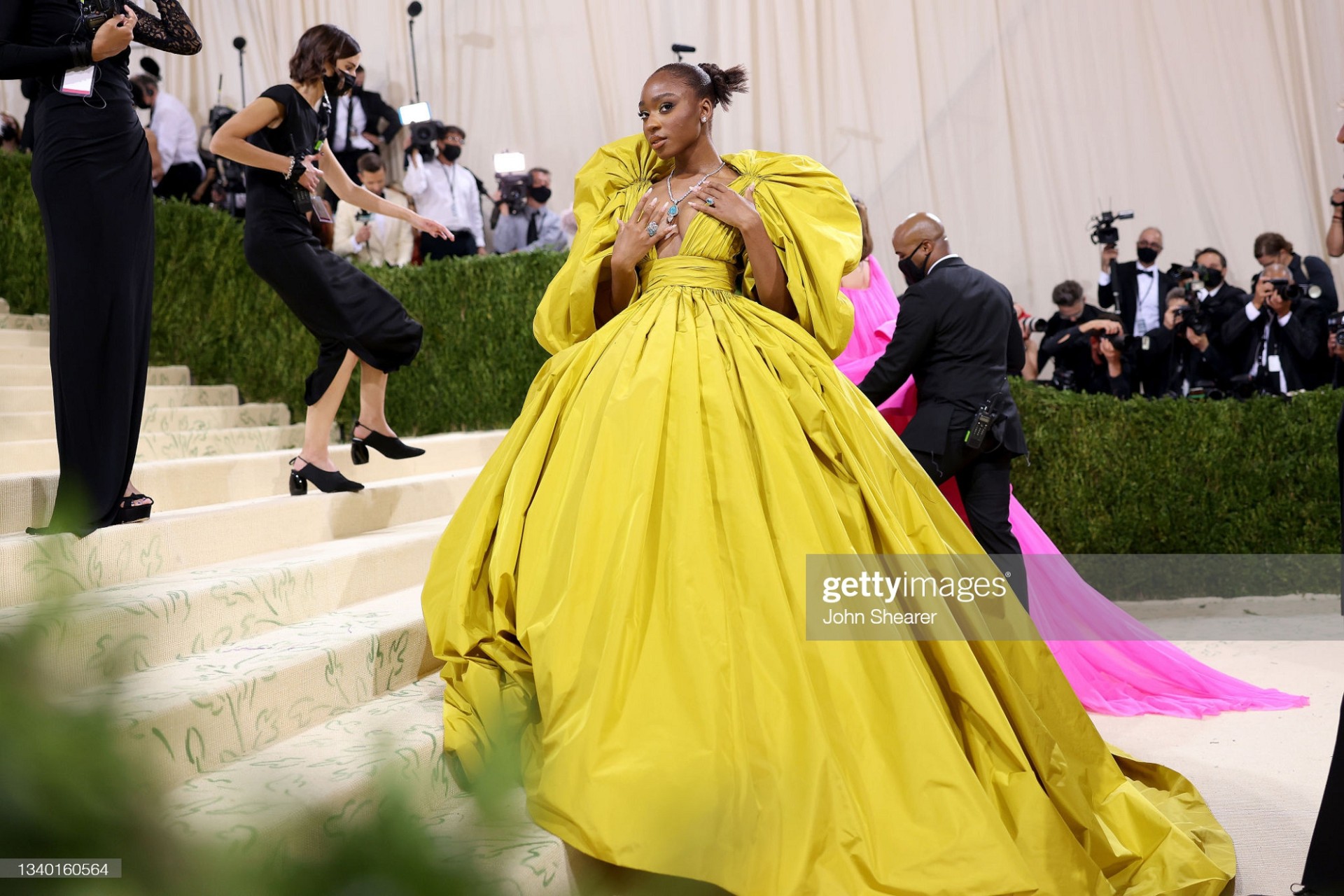 Normani pumped up the volume by opting for a showstopping ballgown by Valentino. She completed the look with jewelry by Lorraine Schwartz.
Simu Liu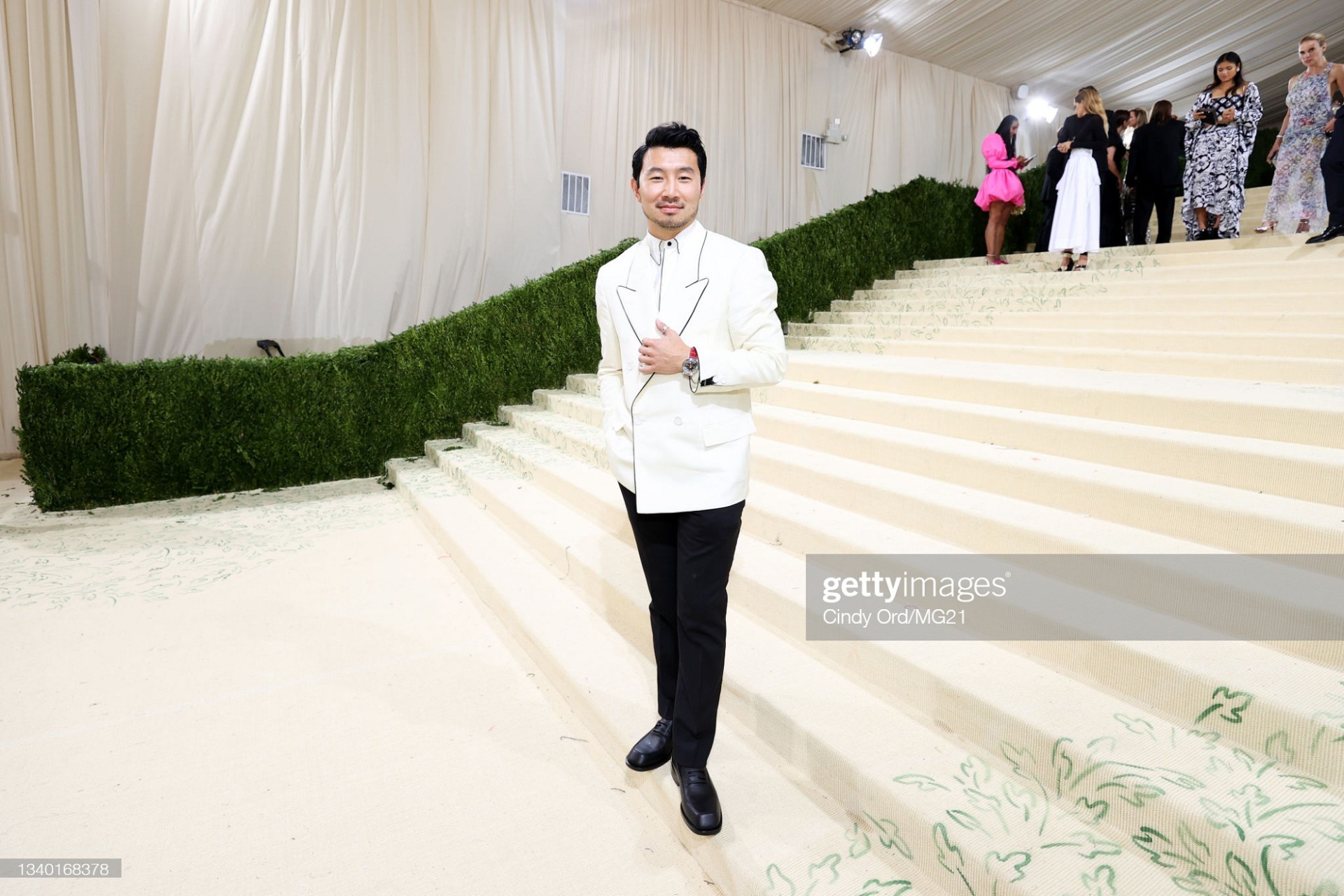 As the star of Marvel's Shang-Chi and the Legend of the Ten Rings, 2021 was the perfect time for Simu Liu to make his Met Gala debut. The actor wore a suit by Fendi with accessories from Jacob & Co.
Ella Emhoff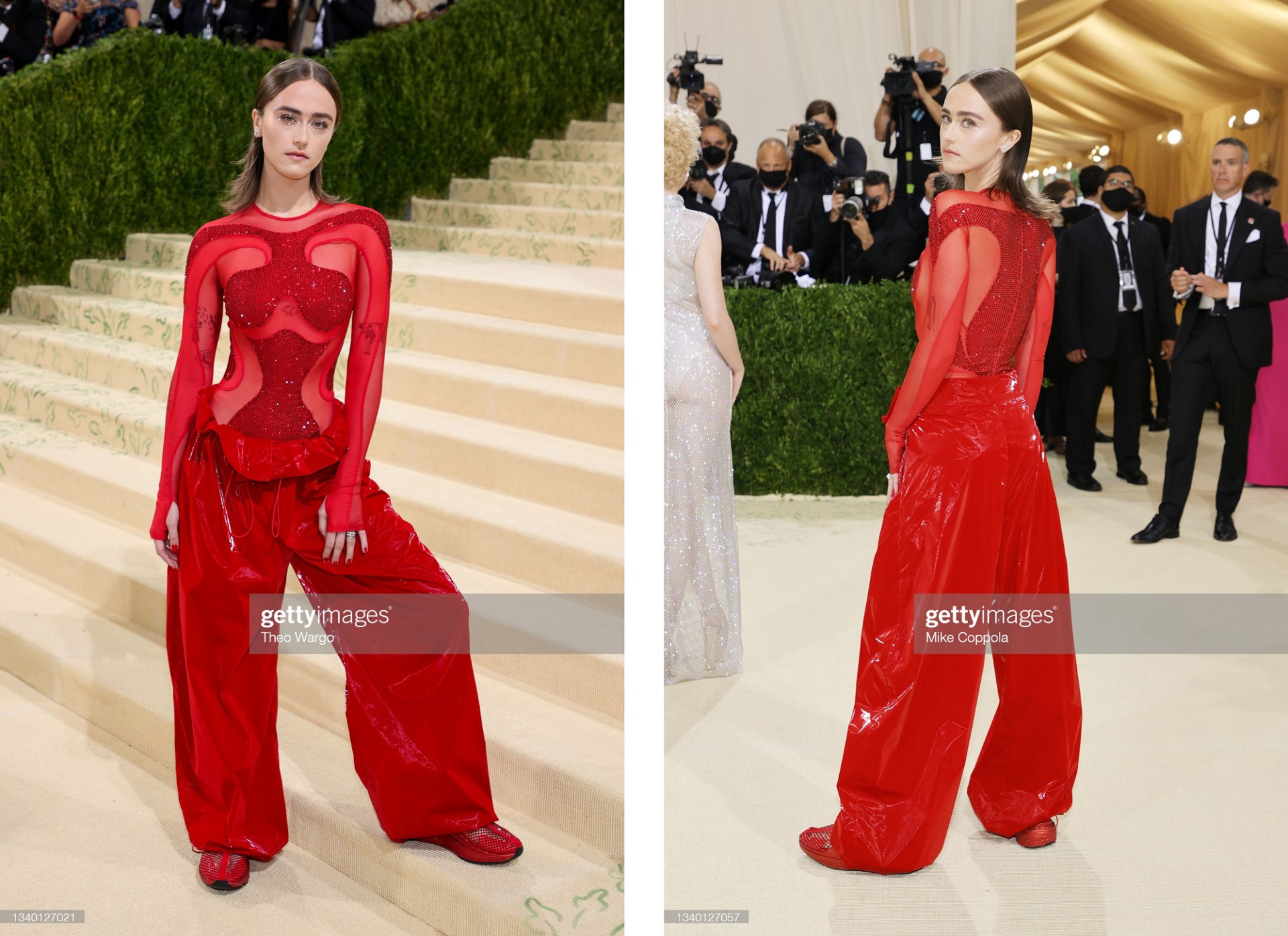 As another Met Gala first-timer, Ella Emhoff arrived wearing Stella McCartney. Sporting a bedazzled bodysuit and oversized patent leather trousers with an on-trend paper bag waist, she credits her passion for comfort as being the main inspiration behind her fashion picks.
Iman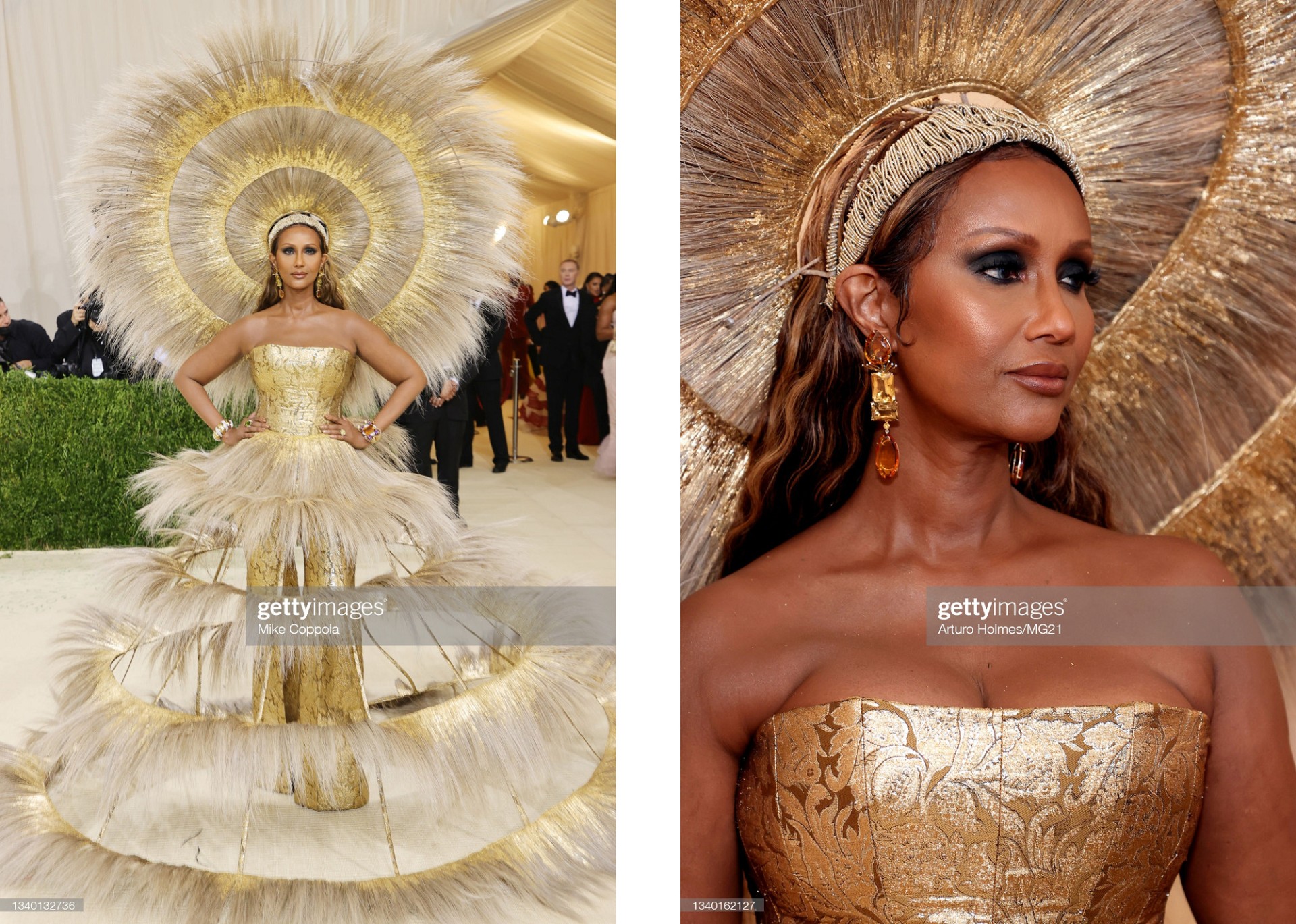 Make way for fashion royalty! As if being a fashion industry icon wasn't enough, Iman created one of the biggest head-turning moments of the evening. The supermodel arrived in a Dolce & Gabbana x Harris Reed ensemble with a custom brocade bustier and trousers, feathered cage over-skirt, and a headpiece that could only be worn by a goddess such as herself. To create this look, designer Harris Reed drew inspiration from America's golden age and ballroom culture.
Yara Shahidi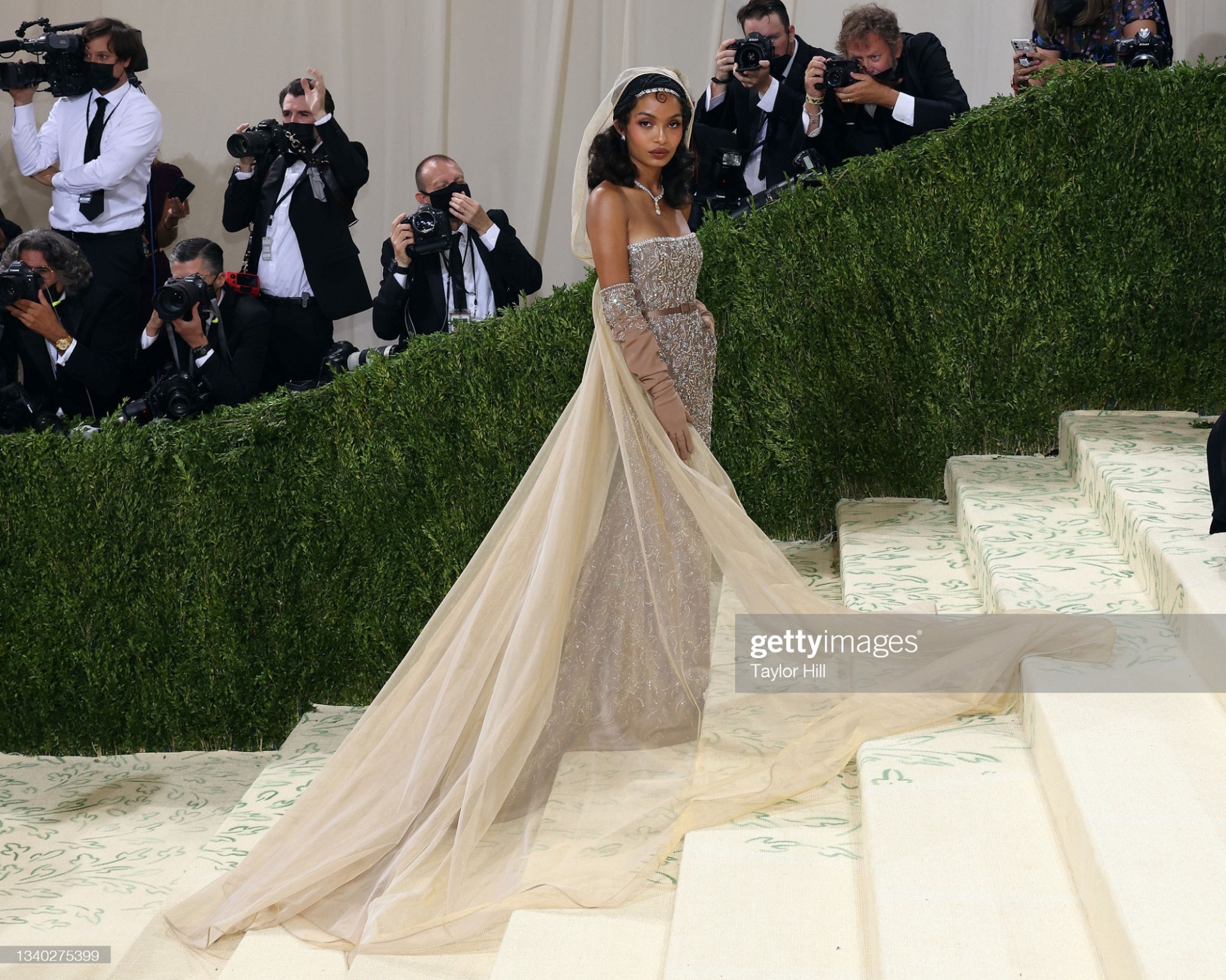 A vision in Dior. Yara Shahidi paid tribute to American-born French icon, Josephine Baker, wearing an exquisite embroidered Dior gown with a tulle cloak.
Kristen Stewart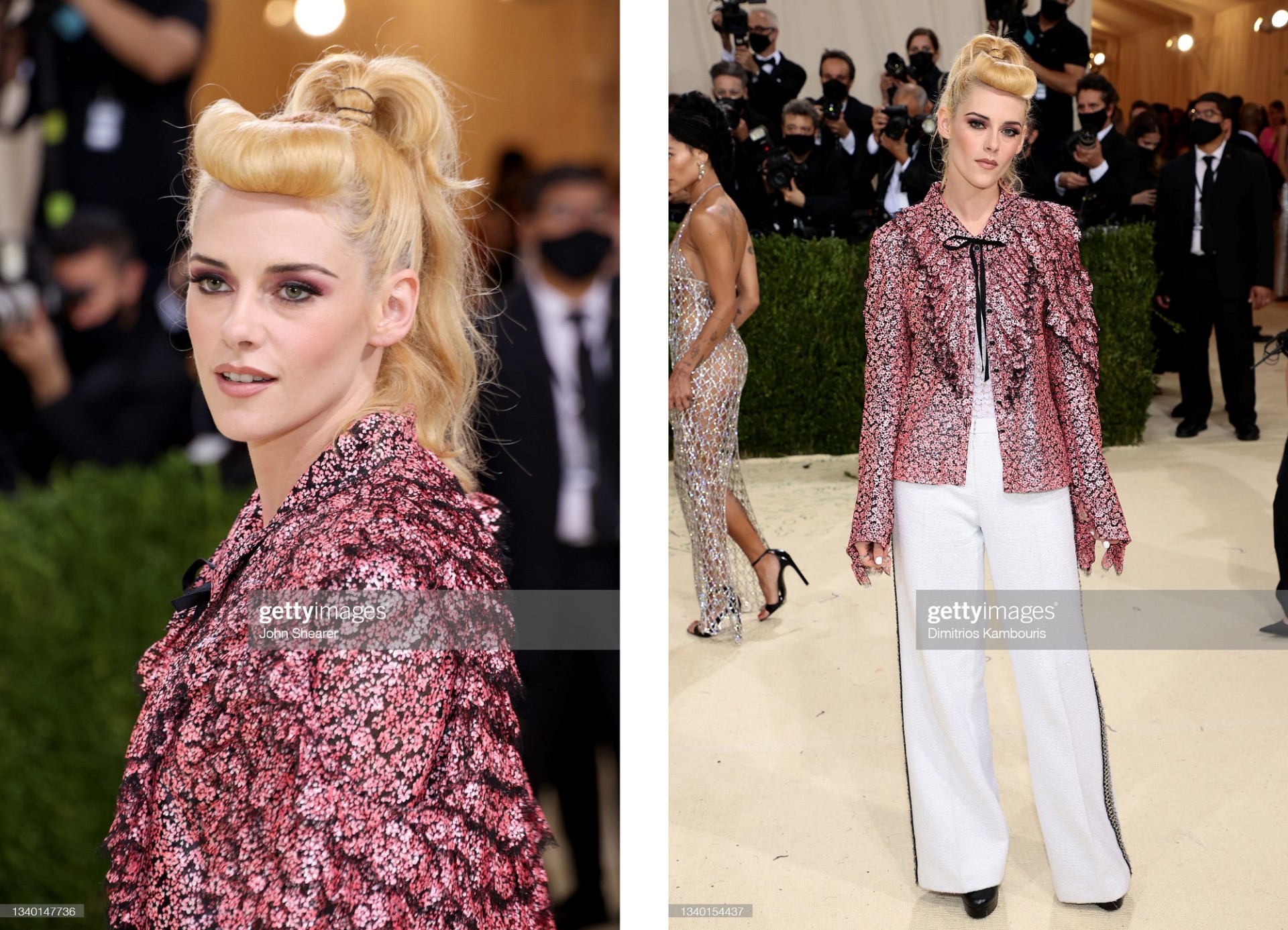 The 90s may be considered "retro" now, but Kristen Stewart took things back to the 1950s with a retro Rockabilly-inspired ensemble by Chanel. Her pinup girl hairstyle couldn't have been more apropos.
Pete Davidson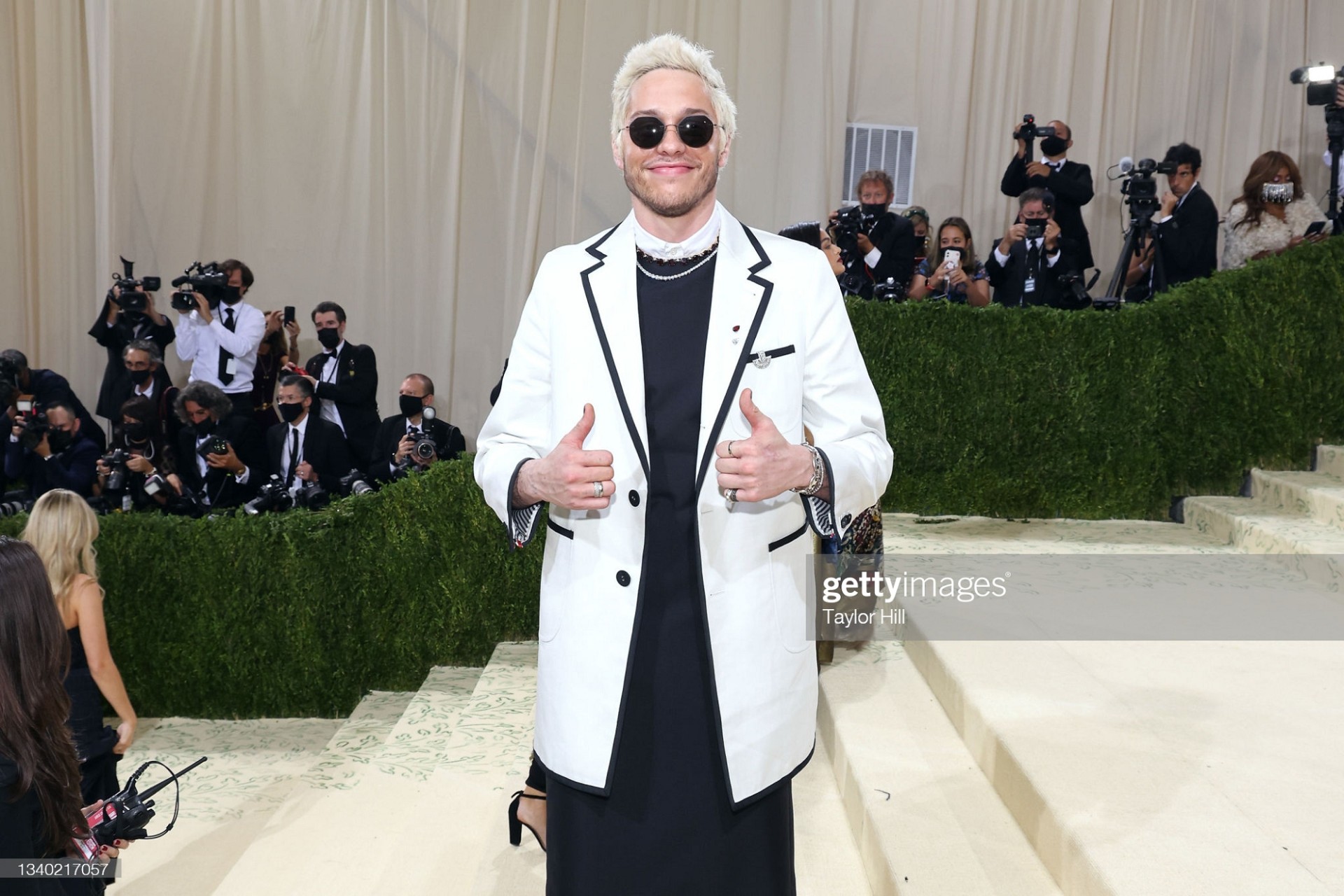 The general public may be split as to weather or not Pete Davidson should be considered a fashion icon. But either way, the comedian and SNL star can beat anyone when it comes to roasting himself. After attending the Met Gala wearing a Thom Browne dress, Pete appeared on Weekend Update to deliver some one-liners and offer a bit of context about his fashion choices.
"I look like if one of the three blind mice sold fentanyl," he joked. "The truth is, I already wear a dress or paint my nails sometimes just because I love making my uncles uncomfortable. When my Uncle Steve saw it, he was like, 'Hey, I don't get it but whatever makes you happy. You're still welcome in my house. I'll just put the seat down when you're over.'"
Zoe Kravitz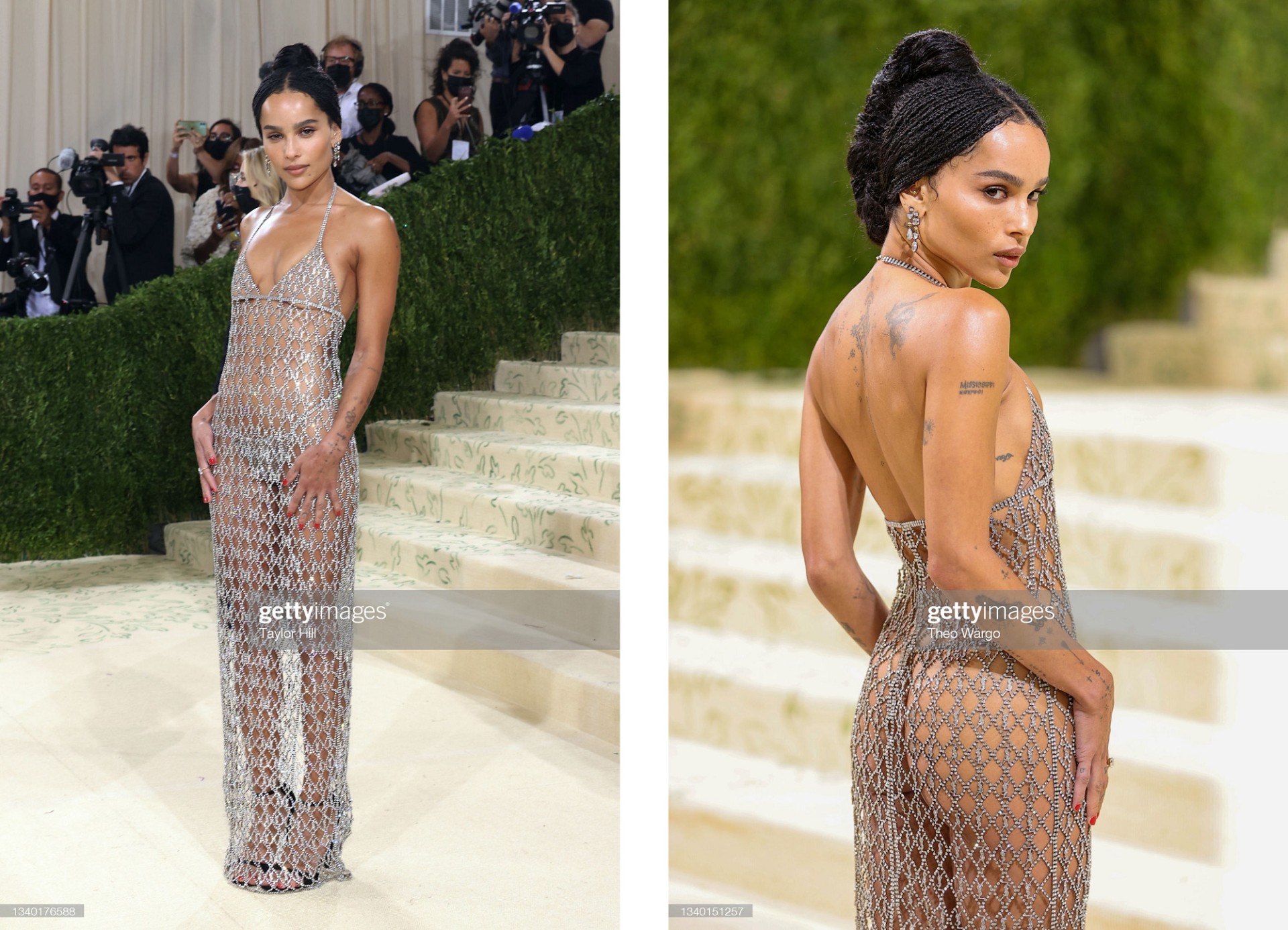 If there's one fashionista who can still look elegant and refined while wearing next-to-nothing, it's Zoe Kravitz. (Side note: It appears that naked dresses will be making a comeback in the post-pandemic world.) Zoe's barely-there gown was created by Saint Laurent.
Gemma Chan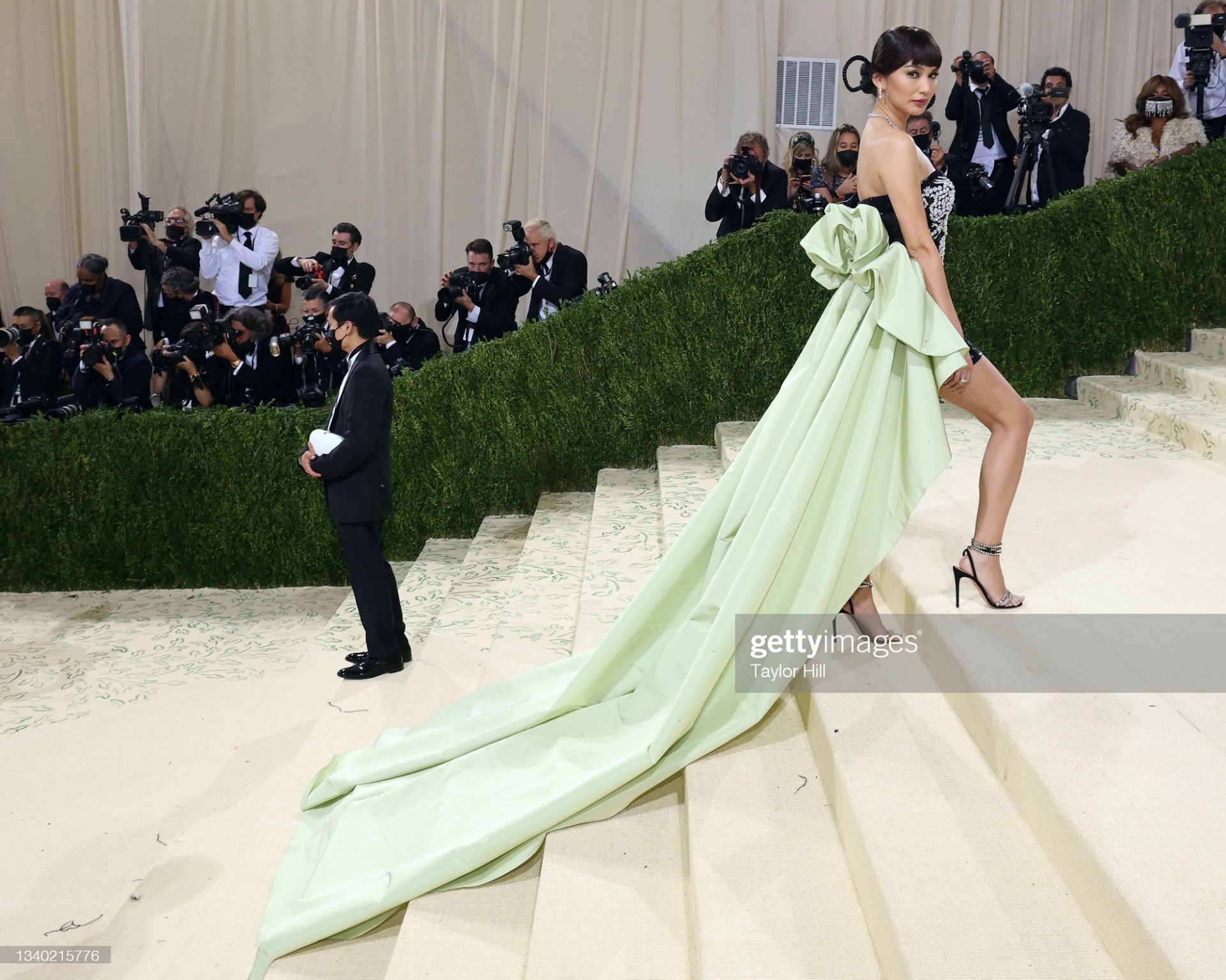 In honor of Anna May Wong, Hollywood's first Chinese-American star, Gemma Chan wore a custom Prabal Gurung ensemble. The Nepalese designer created the look with a black sequin mini dress featuring a hand embroidered crystal dragon, pearl and silver beads, and a removable soft jade silk faille over-skirt with a full train. It was a stunning combination of history and couture fashion.
Kaia Gerber
As one may have predicted, old Hollywood-style glamour was a popular look throughout the Met Gala. Wearing a timeless, strapless ballgown by Oscar de la Renta, Kaia Gerber proved that black is anything but basic.
Timothee Chalamet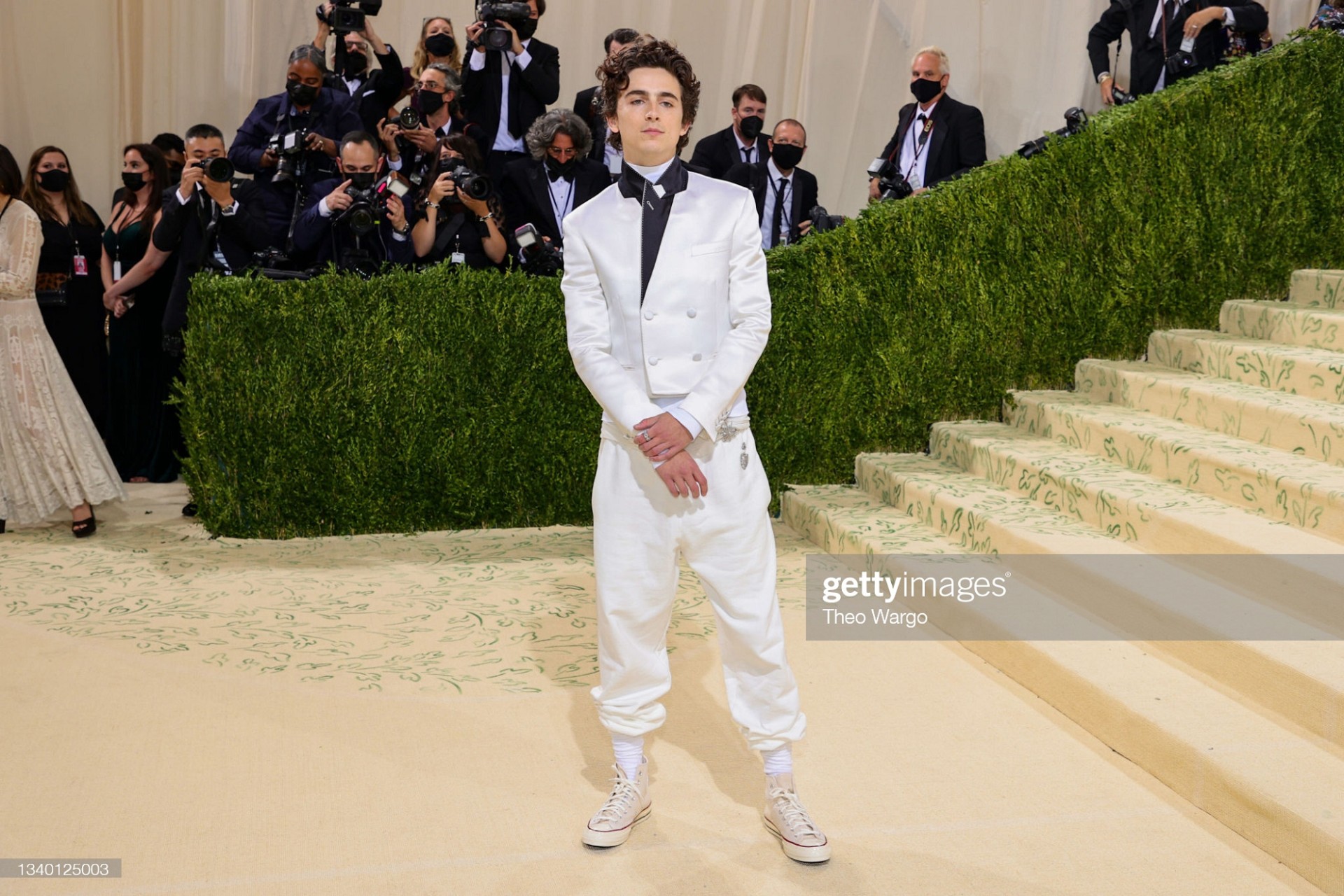 Timothee Chalamet simply exudes his own brand of "cool." His Met Gala wardrobe consisted of a cropped satin tuxedo jacket and jogger-style trousers by Haider Ackermann. Instead of designer kicks, the Gen Z "IT boy" wore a pair of Converse All Stars.
Grimes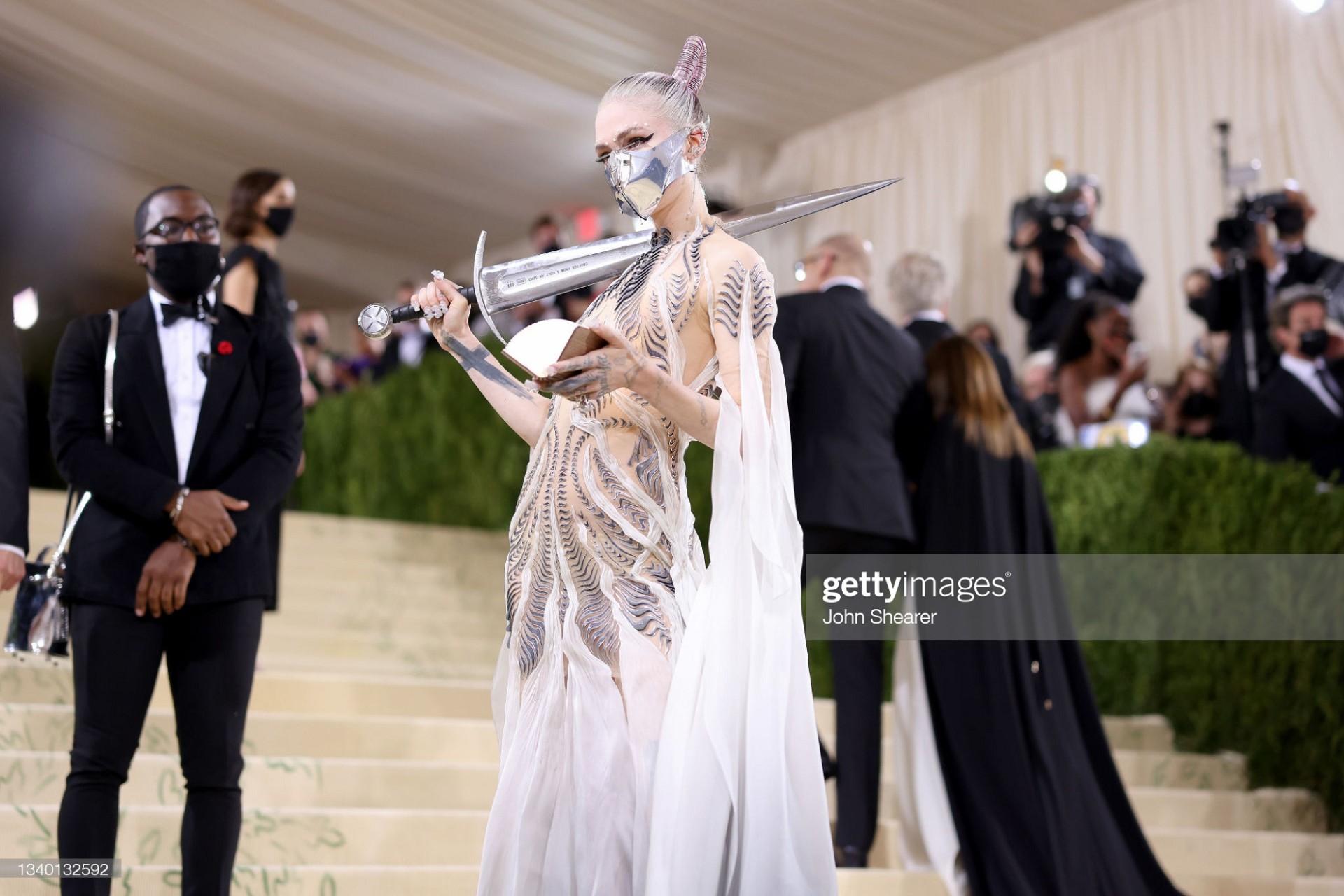 If life is supposed to imitate art, then Grimes understood the assignment. The musician was heavily inspired by Frank Herbert's book "Dune," which was adapted into a film in 1948 and most recently revamped staring Timothee Chalamet. Grimes' futuristic look includes a mask from the original movie, a sheer Iris van Herpen gown, and a book for good measure.
Lorde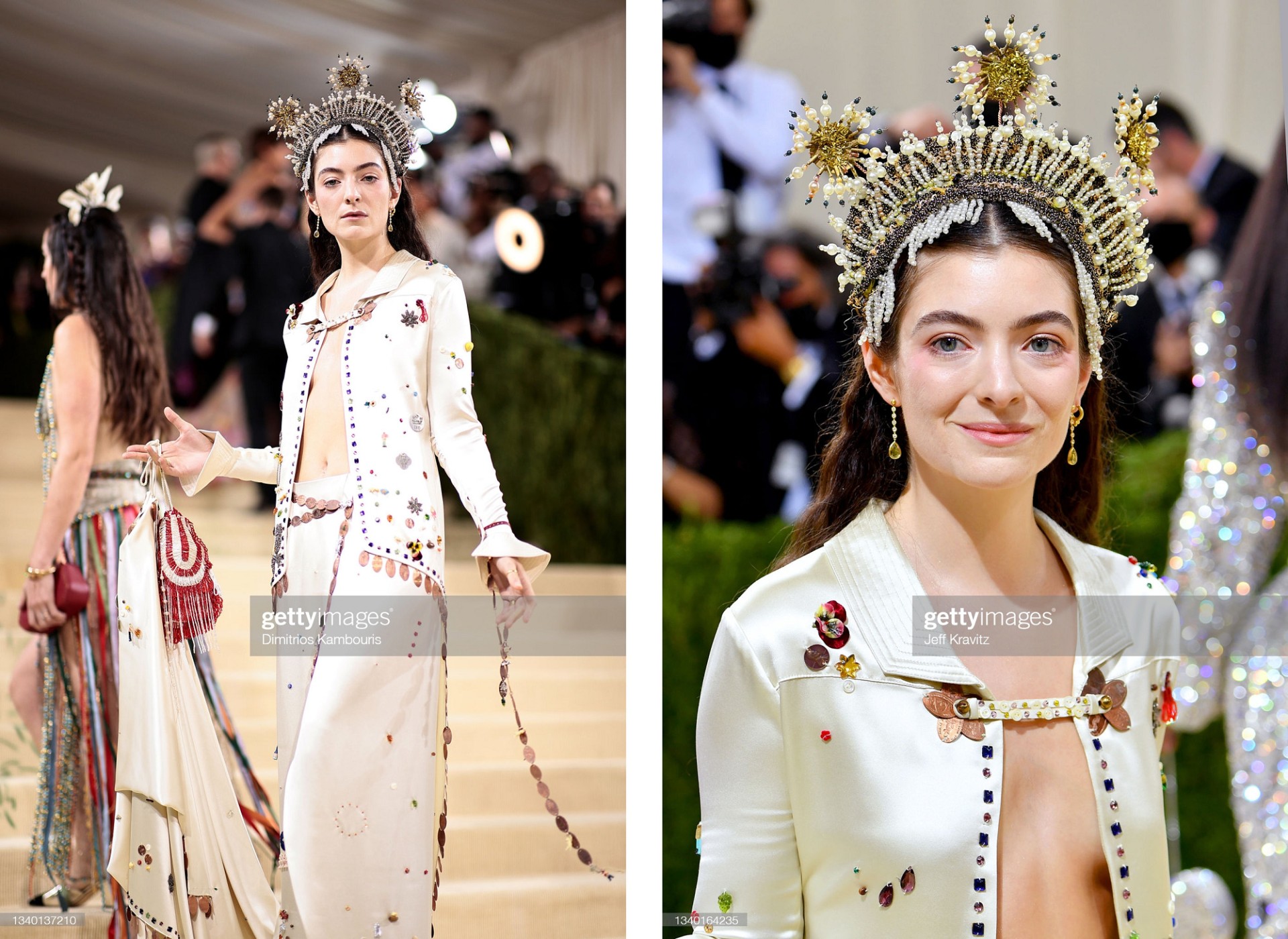 Lorde had the honor of wearing arguably the most meaningful dress of the 2021 Met Gala. New York designer Emily Bode hand-adorned this "memory dress" with nostalgic charms, cabochons, sequins, mercury glass beans, and pennies from 1890 and after. In terms of the theme, Lorde was on point.
Olivia Rodrigo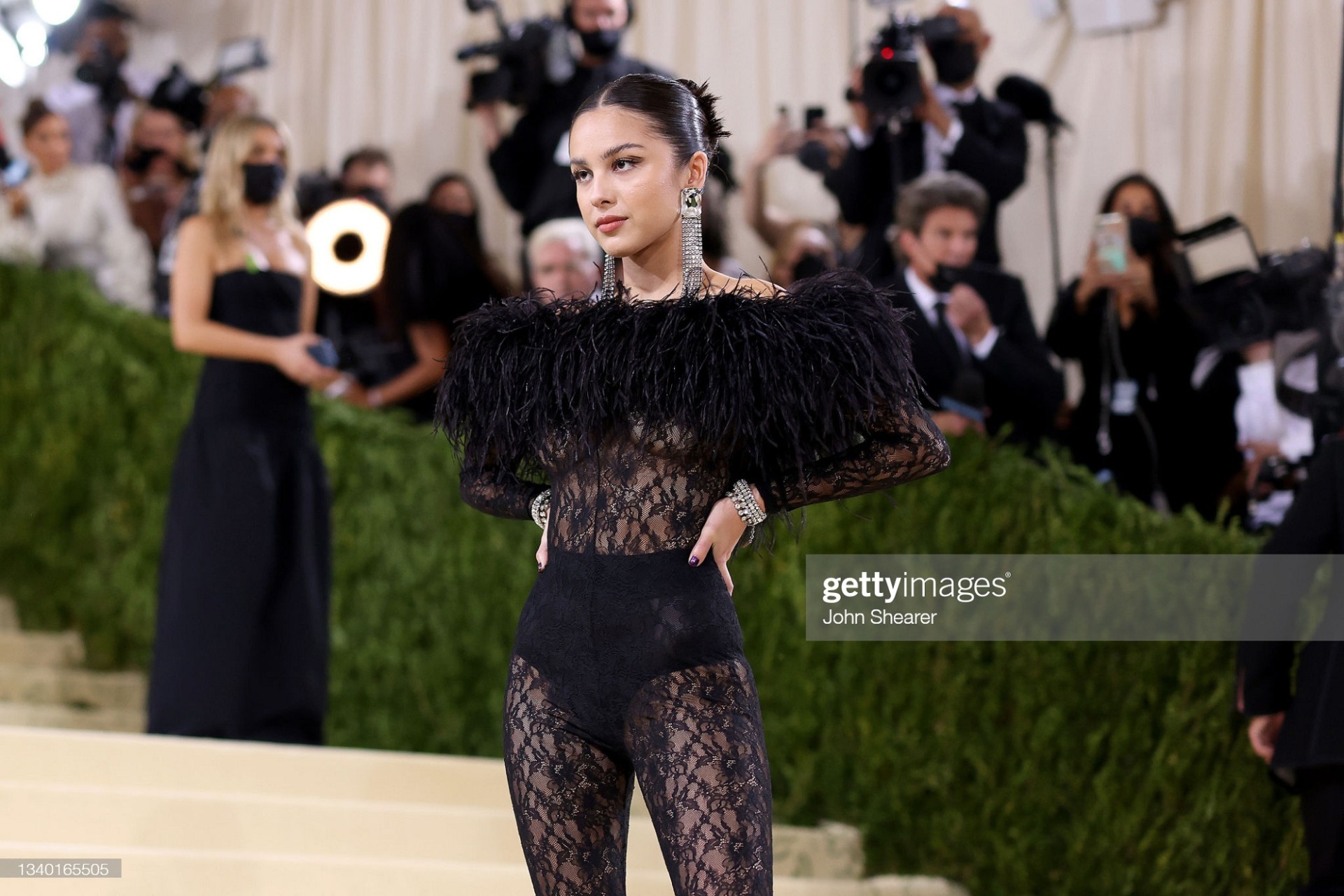 Olivia Rodrigo is undoubtedly one of the biggest breakout musicians of 2021, with her song "Driver's License" being a chart-topping track. At 18 years-old, the Disney star was quick to shake the "pop princess" image when she arrived at the Met Gala wearing a sexy Saint Laurent bodysuit.